SUSTAINABILITY AND RESPONSIBILITY
"At Luminox, we believe that Sustainability is a matter of respect for our planet, our customers, our partners and future generations. For decades, we have consistently maintained a responsible use of resources, searched for eco-friendly solutions and alternative materials. With our successful track record, we continuously reduce our ecological footprint, step by step. We would like other watch companies to follow our example to support next generations."
André Bernheim, Co-owner and Chairman of the Board of Directors
and Environmental Officer of the Group
André Bernheim, Co-owner and Chairman of the Board of Directors and Environmental Officer of the Group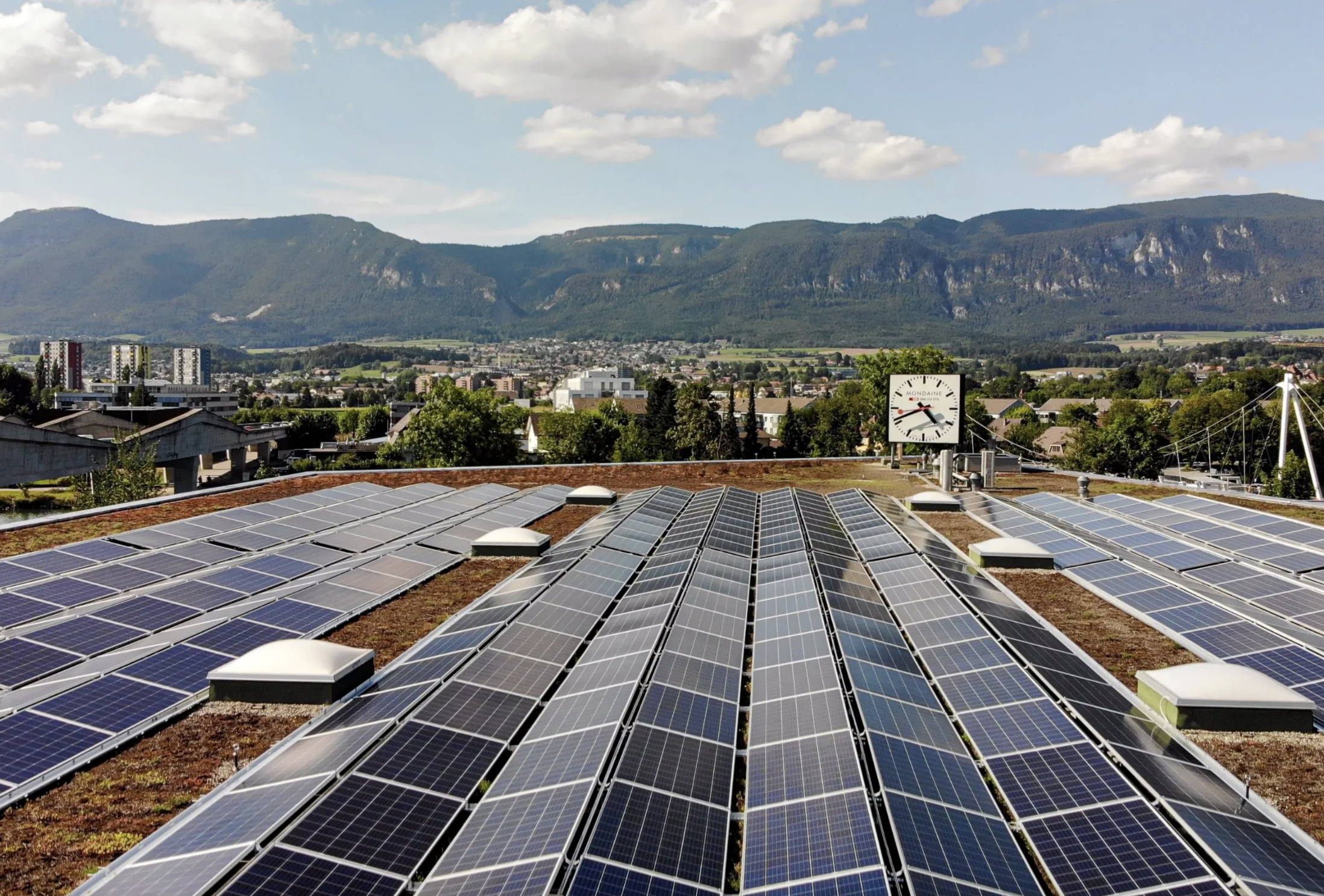 Since September 2019, the Mondaine Watch Group has been operating a photovoltaic system on the roof of our privately owned factory in Biberist, Switzerland.

The electricity generated from solar energy covers up to 80% of total annual needs and the remaining amount of energy is covered by green energy provided through a hydroelectric power plant. Mondaine Watch Ltd. has been engaged in efforts to reduce its own carbon footprint for several decades. And, in the year 2020, the watch group achieved its CO2 neutrality. Corporate sustainability and a sense of environmental and social responsibility have been an integral part of the Mondaine Group's DNA for decades.

Materials such as waste paper, cardboard, batteries, PET bottles, plastic, and production waste, such as steel or electrical parts have been consistently separated, collected and recycled for decades.
Our products are manufactured in a family-owned watch factory in Switzerland. The facility has excellent working conditions, based on strict Swiss labor practices.

Every employee is treated like family, wages are above average and many of our watchmakers are so passionate they've worked with us for decades.

Non-profit organization Fairventures is an NGO committed to reforesting the rainforest in a very socially responsible manner in endangered areas, such as the Indonesian island of Borneo.

The progress of the reforestation project can be followed on an interactive webmap on the NGO's website. The area to be reforested by Mondaine is marked with the "Mondaine" label.

#tide material starts out as collected plastic waste, which is then broken down by a sophisticated sustainable process to its base particles. These are treated, cleaned, and then shredded so that they can be injected, just like the original plastic it once was. In this way, Luminox reuses this material, reduces the impact on the planet, and helps to clean up the ocean, while also helping the local Thai community learn a new skill and make a higher income.

Sustainability has been on Luminox's radar for a while, and its parent company, Mondaine Watch Ltd., is one of the world's first carbon-neutral watch companies. Since 2020, all Mondaine brands, including Luminox, operate with net-zero carbon emissions. The Mondaine Group uses solar power and eco-friendly materials in its production processes and is renowned for its innovation, including in the environmental field. In addition, a proportion of the company's revenue is donated to social and environmental non-profit organizations, such as Fairventures Worldwide.

Project AWARE is a global movement for ocean protection powered by a community of adventurers. Project AWARE brings together a dedicated team of individuals around the world who share a passion for ocean protection and adventure to secure real and direct environmental victories.

Luminox is directly donating a portion of the retail price from each sale of its Bear Grylls X #tide watch-a timepiece made from 100% recycled materials-to Project AWARE. In total, CHF 45,000 will be donated to Project Aware from proceeds of the limited edition timepiece.

Undersea voyager with Scott Cassell
Founded by undersea explorer Capt. Scott Cassell, the Undersea Voyager Project is designed to explore the first 1,000 feet of seawater (the largest environment on Earth) on a continuing series of missions to explore the Earth underwater.

Its mission is to advance scientific knowledge and understanding of the world's oceans, mankind's influence upon them and the life within, while communicating their findings freely to a global audience.

Luminox has been at his side since 2009 with a series of special edition watches that withstand the extremes of the underwater world. Some of our proceeds go to Scott Cassell's projects. So far we have been able to support Scott Cassell with over CHF 125,000.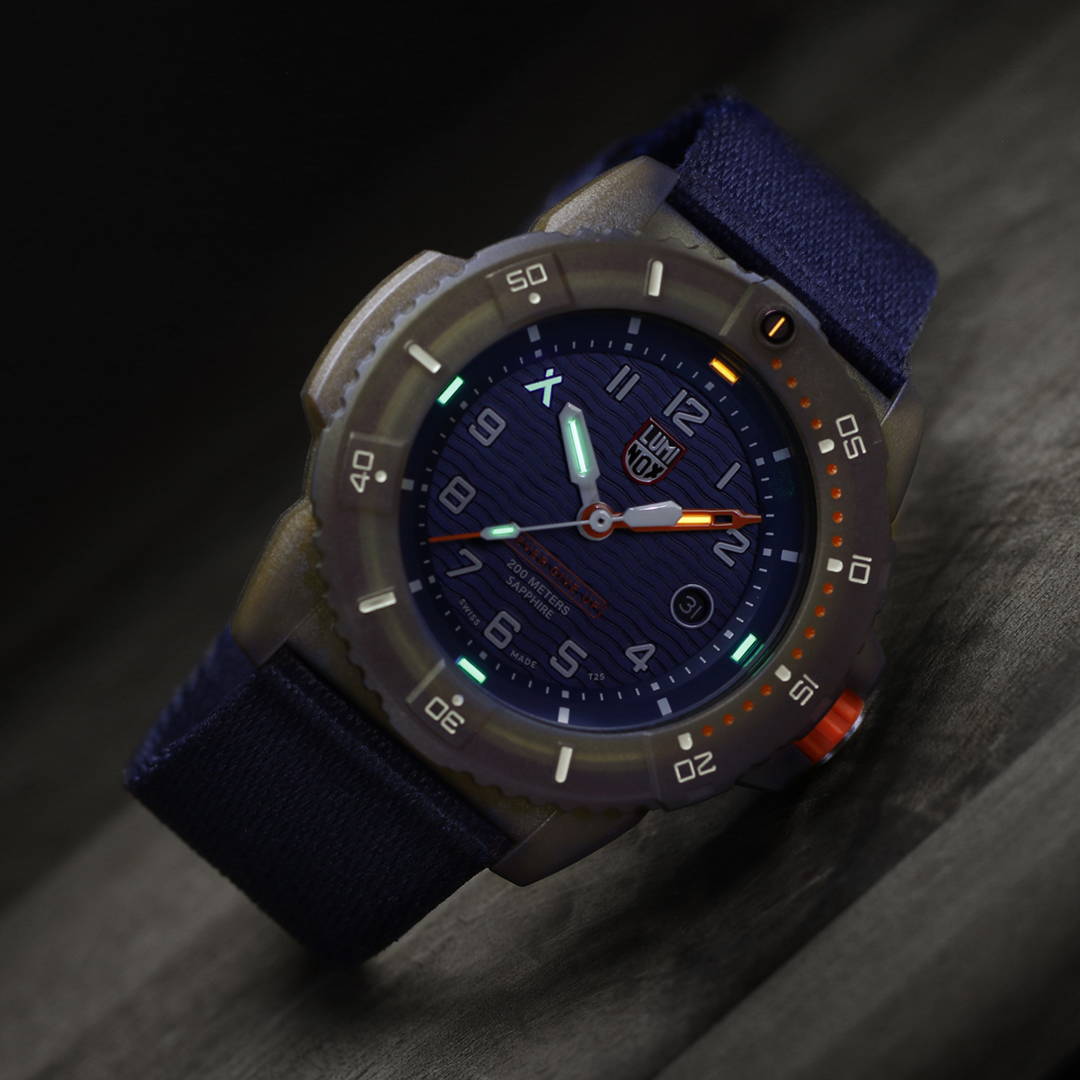 Bear Grylls challenged Luminox to push even further in its quest for sustainability, by utilizing new upcycled plastic material for the case and black strap in partnership with #TIDE.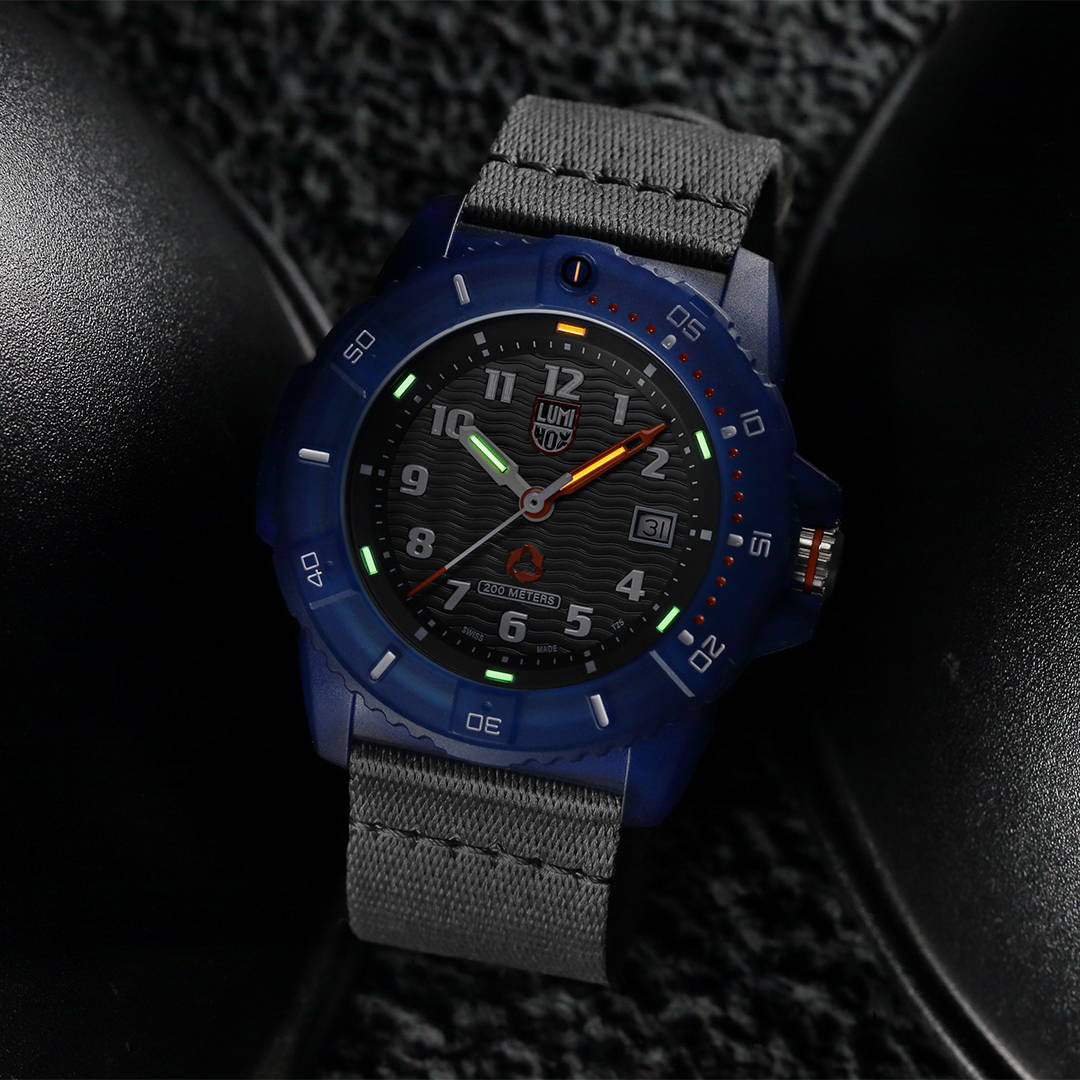 #tide ocean material® is made from 100% ocean-bound plastic, developed in partnership with Swiss scientists. On five islands in the Andaman Sea off the coast of Thailand, local fishermen are being trained and paid to gather and sort plastic waste. This material is registered, washed, shredded and turned into a granular material that can be injected or spun into a yarn. #tide has just launched a third product: Filament that can be used for 3D-Printing.

In the #tide Luminox timepiece, this 100% recycled material is used to make the case, bezel, and strap.